High-Purity Brazing Alloys
Although the final properties of the brazed joint depend on a number of factors, in most cases the use of VTG alloys, allowed for manufacturing of strong and ductile joints, are hermetically sealed. Further benefits of using VTG alloy, depending on application and service conditions, include but are not limited to improved wettability, oxidation and corrosion resistance.
Lucas-Milhaupt Premabraze® and high-purity alloys consist of only pure materials. Their high quality is defined by impurity limits for elements that are considered high vapor pressure, such as zinc (Zn) or cadmium (Cd). These elements would outgas during the brazing cycle and compromise the pressure-tight vacuum seal. In addition, outgassing during operation of the vacuum device would lead to performance issues and catastrophic failures. This is especially a concern when a device is to be used as an electrical safety device.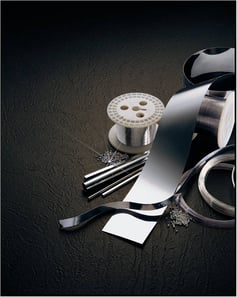 Industry Standards
The American Welding Society (AWS) defines vacuum-grade alloys as "controlled brazing filler metals used in fabrication of high-quality electronic devices when the service life and operating characteristics are of prime importance." This classification is based on chemical composition where basic classifications of brazing filler metal are identified by the major element, e.g., BVAu. The letter "B" denotes brazing filler metal. The letter "V" stands for vacuum. In general, "BV" denotes brazing filler metals for a vacuum furnace. Refer to American Welding Society A5.8/A5.8M Specification for Filler Metals for Brazing and Braze Welding for a list of chemical composition requirements for Filler Metals for Vacuum Service.
Manufacturing Capabilities
Lucas-Milhaupt manufactures a wide variety of VTG products in bulk and engineered preforms. We use controlled manufacturing techniques within a controlled environment dedicated to processing high-purity alloys. These manufacturing capabilities enable us to provide material sizes and shapes customized to your specific requirements. Some examples are:
Wire Drawing - Our carbide and diamond dies on precision equipment produce diameters from 0.187 - 0.005". This provides the optimal-sized material for your application. We also have the ability to produce round, flat, or square cross sections.

Strip Rolling/Slitting - Lucas-Milhaupt precision mills produce material thicknesses typically unavailable from the large mills. Width from 6 - 0.062" and thickness down to 0.001" are available on spools, coils, or other forms, depending upon your production requirements.
Blanking/Ring Forming - Manufactured by high-speed machines, our rings and blanked parts are produced to your specified requirements.
Powder Atomization - Lucas-Milhaupt alloys can be delivered in powder and paste forms.
Alloy Chemistries
We offer a vast array of high-purity product chemistries, available in a number of grades. Please contact us to discuss your application.
Conclusion
Lucas-Milhaupt Premabraze® filler metals are useful for a variety of industries requiring VTG alloys, including aerospace, semiconductor, telecommunications, electrical/electronic, and medical equipment. These applications require filler materials that are free from all volatile impurities. Our brazing filler metals meet these stringent industry requirements.
Questions? Lucas-Milhaupt's experts can help you navigate the challenges of brazing. See our website for information on braze products, or services, or contact us.