Reducing Alloy Consumption
The use of flux-cored braze products (both in wire feed and ring form) can significantly reduce the alloy consumption for each braze joint. Lucas-Milhaupt Handy One® silver brazing products are an industry staple, improving manufacturing processes and cost containment for customers.
Cost savings with Handy One are realized through several factors:
Users achieve a consistent flux-to-alloy ratio, which limits excess flux being placed on the part. This results in alloy flow only in the area to which the rod/ring is applied.
Using a similar wire diameter in solid wire and Handy One wire, operators apply less alloy per unit length with Handy One. This reduces waste and material cost.
Customers achieve consistent heating cycles/times by using flux-cored Handy One. This results in a more consistent braze joint each time, improving product quality and reducing repair/scrap.
Several Lucas-Milhaupt customers have realized significant quality improvements and cost reductions with the use of Handy One instead of a solid wire and external flux application. The case study below tells one customer's story.
Case Study
Customer Challenge: An HVAC/R manufacturer was using manually applied flux and BrazeTM 380 solid wire rods in its brazing operation. The process improvement goal was to reduce alloy consumption, increase joint consistency, and realize cost savings.
Solution: Lucas-Milhaupt conducted a study comparing the customer's current use of alloy using manually applied flux and solid wire rods vs. the amount of alloy used with Handy One flux-cored rods. Technicians measured and compared the amount of alloy used on 100 joints formed with flux and solid wire, averaging the weight of alloy used on a per-joint basis. Next, using the amount of alloy used with Handy One flux-cored rods, the difference was calculated.

Results: Using Handy One flux-cored brazing rods resulted in an alloy consumption reduction of 48% over against manually applied flux and solid wire. This reduction represented a significant cost savings. In addition, manual labor was reduced through a single-step brazing process. Consistency in joint formation was improved, resulting in stronger, higher-quality joints plus less repair or scrap.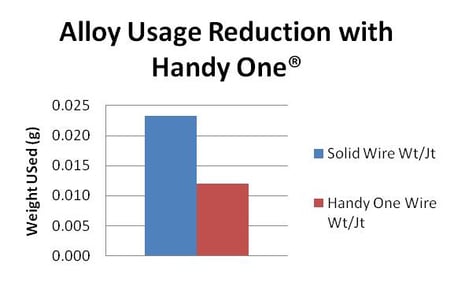 Conclusion
Switching from manually applied flux and solid wire to flux-cored Handy One braze products from Lucas-Milhaupt can significantly reduce alloy consumption, improve brazing consistency, and reduce costs.
Could a change to flux-cored braze materials net you similar gains? Can we help you analyze your braze process? See our website for information on Handy One brazing products or related services, and contact us.