Companies are facing tremendous economic pressure today, which requires renewed focus on core business practices. Your goals may include increasing workforce skills, improving manufacturing processes and building more robust products while reducing costs associated with labor, field failure and scrap. The Lucas-Milhaupt® Technical Services Group can help by providing cutting-edge training, on-site brazing audits plus consulting and engineering assistance. These services can bring bottom-line improvements to your business by increasing skills, solving problems and honing your process.
Expert Training for Better Brazing
Take advantage of complete training courses-at our site or yours-to help employees achieve better brazing techniques. Participants learn the theoretical aspects of brazing technology and processes along with real-life applications and case studies.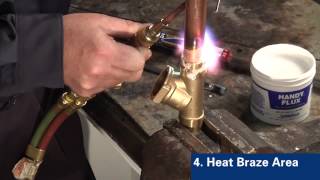 Lucas-Milhaupt Brazing School
During our 2-1/2 day Brazing School, titled Advanced Fundamentals & Brazing by Design, your team learns about variables affecting braze quality plus daily brazing operations.
Who can benefit? The Brazing School accommodates all levels of brazing experience: designers; processing, manufacturing and quality engineers; brazing technicians; brazing operators; managers and production supervisors plus brazing operations personnel.
Course outline:
Brazing technology overview - brazing versus joining techniques including welding, adhesive bonding and mechanical fastening
Brazing terminology and definitions - consistent terminology for brazing processes
Six fundamentals of brazing - proper steps to successfully braze assemblies
Brazing design - standard braze joint design and industry standards
Braze filler metals - braze filler metals including silver, copper, gold, aluminum and nickel-based alloys, their uses and applications
Preform design & automation - braze filler metals with improved productivity and lower costs
Base metals - various ferrous and non-ferrous alloys, refractory alloys, high-temperature alloys and non-metallic alloys
Heating methods - torch, induction, furnace and resistance brazing plus atmospheres and types of flux
Joint inspection
Corrosion resistance of filler metals
Real-life applications and case studies
Customized On-Site Braze Training
Schedule customized on-site seminars to address your specific braze applications and challenges. Experienced instructors teach your workforce the variables affecting braze joint quality plus optimization of your daily brazing operations. This class is fully comprehensive, with both a PowerPoint section discussing brazing theory, and a hands on brazing section that puts the theory into action.
Brazing Audits to Optimize Operations
How might optimizing your brazing operation enhance outcomes and control costs? Schedule a brazing audit for a comprehensive on-site examination of your operation. Hone your brazing process and achieve robust braze joints with increased efficiency and reduced costs. Upon completion of the audit, receive a written report documenting analysis, recommendations and options for optimization.
Your audit follows the six fundamental steps of brazing:
1. Good fit and proper clearance - focusing on the fit of mating parts and joint design to optimize joint strength and integrity
2. Cleaning the base metals - ensuring that all components, including braze alloy materials, are cleaned and properly prepared for brazing
3. Fluxing the parts/proper atmosphere - analyzing the amount of flux applied to parts plus proper fluxing procedures
4. Proper fixturing - examining fixturing of the part and making recommendations, if necessary
5. Proper heating - reviewing this critical operation and making recommendations to improve the process
6. Post-braze cleaning - ensuring a quality finished part
Our brazing application engineers help address challenges in your metal-joining process and make specific recommendations for process improvements. Clients tell us they have realized significant benefits following braze audits:
Reduced costs
Increased throughput
Decreased re-work
Decreased scrap
Improved joint appearance
View a sample brazing audit report that details Lucas-Milhaupt Technical Services observations and recommendations on a torch brazing operation. This project led to improvements in quality and consistency for the client's brazed assemblies.
Consulting and Engineering Assistance for Problem Solving
You need a brazing partner with an extensive knowledge base to help solve problems and optimize your process. Lucas-Milhaupt braze consulting and engineering services are a ready resource. Our brazing application engineers can diagnose and help resolve operational issues to support your brazing process, accessing the Lucas-Milhaupt laboratory for sample testing and analysis.
What challenges do you face today? Technical Services engineers can answer questions on your specific brazing application, joint design and filler metal selection-and then recommend appropriate alloys and alternatives for your applications. We can test-braze your components, examine previously brazed assemblies and conduct feasibility studies to explore available options and benefits of proposed solutions. Overcome your obstacles to improvement, and reap the benefits of better brazing.
CONCLUSION:
If your goals include continued improvement in your workforce, processes and products plus reduced costs, the Lucas-Milhaupt Technical Services Group can help. Our cutting-edge training, on-site brazing audits plus braze consulting and engineering assistance can help you increase skills, solve problems and hone processes.
The Technical Services Group is also pleased to provide expert information for Global Brazing Solutions® through our blogs, instructional videos and case studies. Feel free to share this posting with associates, and save our blog site to your Favorites for easy reference.
Questions about brazing? Contact us for further assistance. For detailed questions regarding specific applications, please call the Lucas-Milhaupt Technical Services Department at 800.558.3856.