HVAC Trends
The global HVAC/R market continues to grow, as the world population migrates to warmer regions and as a growing middle class (especially in developing countries) demands cooling comfort. In addition, legislation has forced changes within the industry: ozone-depleting refrigerants are being phased out, and increased energy efficiency is being mandated. As a result, manufacturers are re-engineering HVAC/R components to improve efficiency and reduce energy consumption.
Copper vs. Aluminum
HVAC/R systems require brazing versus other joining processes because brazing provides high-strength, hermetic joints that can withstand the pressure, vibration, and thermal cycling within these units. For decades, copper has been the material of choice, as it offers excellent heat transfer properties, is ductile, and is easy to join. Brazing of copper is a well-established process, utilizing a family of alloys (Sil-Fos®) that Handy & Harman—the parent company of Lucas-Milhaupt—invented in the 1930s.
However, a number of factors are inducing HVAC/R manufacturers to transition from copper to aluminum. The unprecedented rise in the cost of copper is a vital factor; another is copper's corrosion issues (including galvanic and formicary) and subsequent field failures.
Aluminum has long been studied as an alternative to copper in HVAC/R systems. Both have good heat transfer properties; but due to its lower density and specific gravity, aluminum offers a key advantage to copper on a surface-to-weight ratio: a pound of aluminum yields nearly three times the parts as a pound of copper.
Managing the Transition
Copper and aluminum have distinctive properties and do require different techniques and controls. For example, pure copper melts at 1981ºF (1083ºC), changing color as it heats; typically used aluminum alloys melt at a lower temperature of approximately 1190ºF (643ºC), providing no visual change as it heats.
Historically, the primary obstacle to the change from copper to aluminum has been the inability to braze aluminum alloys effectively and inexpensively, as traditional aluminum brazing materials melt within very close proximity to the base materials being joined.
| | | |
| --- | --- | --- |
| | | |
| Figure 1 - Copper changing color as it is heated. | | Figure 2 - Aluminum coil brazed with Handy One® braze filler metal. Note: No change in color as it is heated. |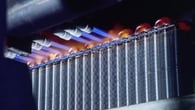 Figure 1 - Copper changing color as it is heated.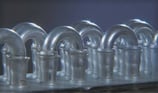 Figure 2 - Aluminum coil brazed with Handy One® braze filler metal. Note: No change in color as it is heated.
Here's the good news: Lucas-Milhaupt offers a full line of solutions which support the use of aluminum in HVAC. Technical expertise and materials such as Handy One® aluminum non-corrosive flux-cored alloys allow high-quality, reliable, economical brazing of aluminum components.
These are the major changes for an aluminum brazing process:
Enhanced aluminum tubes replace copper tubing.
Flux-cored rings of Al/Si brazing material are placed the aluminum return bends.
Coils are brazed on automated inline brazing equipment.
Coils are tested and assembled in final assemblies.
No post-braze flux removal is required.
Lucas-Milhaupt's Handy One® aluminum products can improve the brazing process quality and can also accommodate current manufacturing processes-including hand brazing. To view a Lucas-Milhaupt video showing an aluminum coil being brazed, click here.
Lucas-Milhaupt's brazing experts can help you navigate the challenges and realize the advantages of converting from copper to aluminum. For more information on Lucas-Milhaupt's solutions for aluminum brazing, aluminum-to-copper brazing, HVAC coil brazing, and related processes, please contact us.